Work & play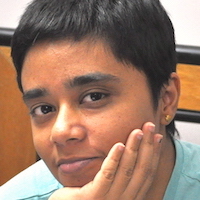 I am an author, writing fiction for middle-grade and young-adult readers. To find out more about my work, see the Books section. If you want me to visit your school (virtually, of course) for an author interaction or conduct a writing workshop, please get in touch.
Aside from writing fiction, I am also a journalist. I cover science and technology, and how that affects our world and our lives. My writing has been published in the Financial Chronicle, Business Standard, Washington Post, Guardian, Independent, Travel + Leisure, Outlook Traveller, Nature, NBC, Discover and more. To read some of my recent work, visit my portfolio.
Before becoming a full-time writer, I was a copy-editor for academic and non-fiction book for almost two decades. I also dabbled in some web development, and wrote content for websites, newsletters, brochures and even the odd CD-ROM back in the day.
When I'm not reading, writing or surfing the web, you'll find me nose-deep dispatching enemies and saving the world in a computer game. Sadly, I don't yet have an Occulus Rift.